by Allison Tanner
There has been a lot of talk in the news recently about how peace can be achieved for Palestinians and Israeli Jews, but little of it centers around issues of justice. There has been a lot of talk of violence, but little is said about the violent structures of state-sanctioned apartheid. There have been endless discussions of clashes, but little conversation around the vast inequalities in weaponry between "rockets" that are more akin to fireworks versus some of the most advanced weaponry in the world. Terror is something both Palestinians and Jews are living with, but the 12 deaths of Israelis in the past two weeks are vastly disproportionate to the 245 deaths of Gazans.
On Saturday, May 22, the Justice in Palestine and Israel (JPI) Community led an event that helped make sense of the disparities in U.S. media reporting and the on-the-ground realities of Palestinians. If you didn't get a chance to watch this powerful conversation: More Than a Conflict…, I encourage you to do so. During the program we heard from Palestinians whose
experiences call into question the rhetoric of politicians and the media. They provided a larger historical context for understanding what is currently happening as part of an ongoing
settler colonial project of ethnic cleansing of indigenous people from their homeland. We also heard from a representative of Jewish Voice for Peace who reminded us of the rapidly
growing number of U.S. Jews who actively oppose Israeli policies and Zionism, the ethno-nationalist political ideology that Israel was founded on. We were encouraged to support Judaism but not Zionism and to not be afraid to talk with our Jewish friends about the need for Palestinian liberation. Finally, activists offered two specific calls to action that you can take to support Palestinians:
Tell President Biden and Vice President Harris to oppose violence and evictions
Sign the petition to Stop Jerusalem Expulsions and Save Sheikh Jarrah
As Christians, we have a specific responsibility to stand with Palestinians in their struggle for liberation. Our own faith has been co-opted and twisted into Christian Zionism, a political and theological ideology that uses Christian texts to support the modern nation-state of Israel. Christian Zionists outnumber Jews in the U.S. 10 to 1, and they are wielding their power in Washington to help fund and provide political support of Israel's war crimes. It was Christian Zionists who led the call for the U.S. to unconditionally support Israel's expulsion of
Palestinians in Jerusalem and Israel's bombing of Palestinian civilians in Gaza. Christian Zionists, the majority of whom are evangelical, are pushing a racist, Islamophobic and anti-Semitic agenda. The Alliance's work of disrupting and dismantling white supremacy includes disrupting and dismantling Christian Zionism.
Palestinian Christians have offered a Cry of Hope and Call to Action to the international Christian community, imploring us to join in their struggle for liberation by challenging Christian Zionism in the United States. The Alliance has responded to this call to action, with the commitment of the JPI Community leading us in living out this commitment. JPI has shared a short video on Christian Zionism and the need to confront it. We will provide opportunities in the months to come to engage more fully in both education and opportunities to challenge Christian Zionism.
To profess the liberative power of Christianity, we must work together for the liberation of all people. Even as we join with our Black and brown brothers and sisters, our immigrant and
indigenous brothers and sisters, our poor brothers and sisters and our LGBTQ+ brothers and sisters, the invitation for collective liberation beckons us to expand our vision. We must also
join with our Palestinian brothers and sisters in their struggle for self-determination and liberation, we must join with our Jewish brothers and sisters as they challenge Zionism, and we must join together in our own work of challenging Christian Zionism, white supremacy and imperialism in all their ugly forms. It's good to be on this journey together—stay tuned for ways to be involved.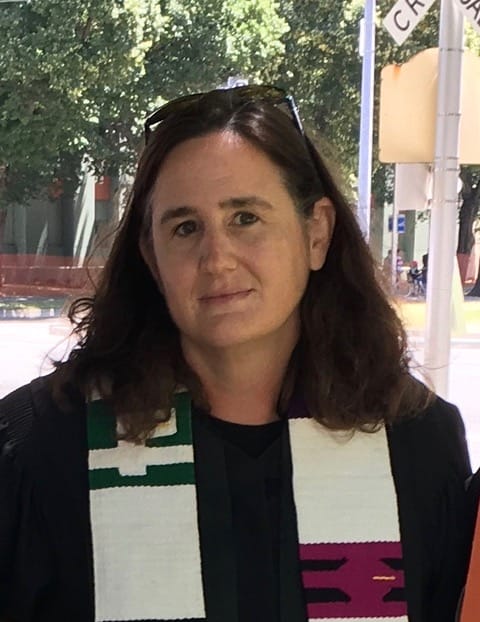 Allison J. Tanner is a pastor, educator and organizer working for justice and healing in her community. She currently serves as the Pastor of Public Witness at Lakeshore Avenue Baptist Church, in Oakland, California.
The Justice in Palestine & Israel Community works for justice in Palestine and Israel by raising awareness about the current situation there, sponsoring trips/pilgrimages to the Holy Land, networking with other like-minded faith-based groups, and advocating the pursuit of justice with elected policymakers. We believe that if justice exists, peace will be found.