By Stephanie Cooper
"Lest we forget, Pride did not start out as rainbows and parades. It was protests and riots led by Black and Brown queer people against police brutality against our community. Happy Pride month; act up, act out, and be safe." -Whitney Campbell, MFT
"For if you remain silent at this time, relief and deliverance for the Jews will arise from another place, but you and your father's family will perish. And who knows but that you have come to your royal position for such a time as this?" Esther 4:14
At the beginning of Pride month, I am always caught off guard. I always know Pride is coming. It's my month for and with my people. And I always expect corporations in capitalist society to do what corporations in a capitalist society to do–make money off of anything they can. So the rainbows slapped on t-shirts, mugs, well, really anything, at almost every store is never a surprise to me.
But what gets me, every year, without hesitation, is the… I don't even know if I can describe it well… is this deep sense of community and belonging with people near and far. It's a seeing and being seen–with people who I've known to be queer for a long long time, those who I've just met in our community, and those who have just shared with me recently that they too find themselves among us.
I get caught off guard by the celebration and joy and wholeness of life being expressed through Instagram posts, texts, and phone calls. Pride is a time of celebration.
My first Pride festival was in the summer of 2009. I had just really come out the year before and when I walked through the festival gates I saw my people. It was a right of passage I didn't know I needed. It was ceremonial. It was a religious experience.
That night the Indigo Girls closed out the festival singing (what I would later learn is the Lesbain Anthem) Closer to Fine. I didn't really know who the Indigo Girls were, and I was just so excited that I found myself dancing and jumping and hollering and watching a beautiful cacophony of beautiful people all around me. I was blessed by God in that moment and am blessed every time I remember it.
I didn't know I needed that joy.
I came out in a relatively safe place–I was at Louisville Presbyterian Theological Seminary. The first person I met on campus was our Black queer preaching professor, and the second person I met was another new student, Jenny, a woman that transitioned later in life.
Louisville Seminary was a safe community to live into my coming out that I had been aware was there for many years but never had the courage to name. I tried to come out when I was 16 and then 17 and then 18, but everyone around me always told me it was just a phase or that I was being an emotional teenager. And then in college I was surrounded by the religious conservative crowd, so coming out there was nearly impossible. In fact, one of my sorority sisters did come back from working a summer camp with a girlfriend and the things that were said about her behind closed doors were not good… and not something I was ready to suffer myself, so any questions I had about my own sexuality would be shoved under the rug and behind closed doors and would have to wait while I tried to date boys who really loved Jesus (but also agreed that women could serve in ministry, too).
Louisville Seminary was a breath of fresh air. It was my first gay bar. It was my first Pride. It was my first out relationship. It was when I met my future wife. Comment end It was the joy of being out and proud.
So every year when I see posts on Instagram or get text messages wishing me a happy Pride–every time I see a post of one of my close queer family friends with their children or friends in drag, or friends at drag, or friends decked out with rainbow sparkles across their chest, I am reminded of their joy, their journey to get to the place where they are, their celebration of their own lives and love and I am always overwhelmed with gratitude and joy.
Because this queer life is not one that just happens. Even today, in 2023, the culture wars around queerness, in particular the trans community, is dark. I expect you know this if you are reading the blog on the Alliance of Baptists website–you know that elected officials have made queer lives, particularly trans lives, a living hell in 2023.
And because of the political moment we find ourselves in, there's this race to the bottom to bully "woke corporations and institutions" back into the past where queer people existed in the shadows and dared not step out into the light in the full truth of their whole selves.
But even before the legislation, it was already hard. Living in a world where it's assumed that you are straight and cis until you are not, when that's the automatic default assumption, it means that when you're not that it makes you feel like something's off with you or wrong with you.
It's the microaggressions at the grocery store or at the family dinner. It's not knowing if your nurse who is caring for your body is secretly disgusted by your partner holding your hand and whether or not, because of your caring partner's hand holding, they're going to give you the same care as someone else. It's ALL of the statistics. It's the outright aggression. It's that trans women are four times more likely to be victims of violent crime than their cis counterparts. It's that trans youth are more than four times more likely to attempt suicide. It's the "hate the sin love the sinner." It's the "we welcome anyone to our business even if we disagree with their lifestyle." Even in a world that has become increasingly welcoming to us, it still is not easy to be queer.
So Pride month. This joy, this celebration. Pride month feels good, y'all. It's the recharge I need.
It takes courage to live these queer lives. And it takes courage to stand up for them.
But I think most importantly, courage only comes from integrity. And integrity is rooted in truth-telling, honesty, and vulnerability.
The story of Esther is one of a young Jewish woman who ultimately rescues and saves her people from mass genocide. She was living during the time after the Babylonian exile–many Jews who had been exiled from their ancestral land were still living in other places, like Esther, who happened to be living in the Persian capital of Susa. After a series of strange events, the King of Persia holds what is essentially a beauty pageant to find a new queen.
During the beauty pageant, Esther concealed her Jewish identity and, surprise surprise, wins the beauty pageant and becomes queen.
Meanwhile, one of the King's highest-ranking officials, Haman, puts out a decree for all of the Jews to be killed. Esther and her uncle Mordecai plot to try to find a way to save the Jewish people and Esther determines that she will go before the King to make a case to save the lives of the Jewish people and reveal her Jewish identity. Mordecai says to her, "If you remain silent deliverance for the Jews will come from another place…Perhaps you've come to your royal position for such a time as this?"
Maybe this is your thing. Maybe, this is where the stars have aligned for you. Maybe this is your chance, your moment, to bring about peace and justice for the people.
The sticky bit though–even though Esther was the King's Queen, according to Persian law, no one was to go before the King unless they were summoned to do so or one could be subject to punishment, even death, even the queen. But Esther heeds her uncle's words and replies "If I perish, I perish."
And as the story goes, Esther and Mordecai go on to save the Jewish people.
Esther finds herself in a position of power that she never expected at a time of great need. Her people were to be erased–pushed out of the narrative, backed into the shadows, and she was given the opportunity to act. And she did.
The church has been slow coming to the rescue of the queer community–slow on the uptake on this one. Even with the "All Are Welcome" signs, it's really just more work for queer people to decipher because do you really mean all? Are you wolves in sheep's clothing ready to destroy or is this really a safe place? The mixed messaging and long history of discrimination has made it tough for us.
And one of my favorite parts of this whole passage is that Mordecai has no doubt that deliverance will come. Whether it's from Esther or not. In the same way, I have no doubt that deliverance for the queer community will come, whether it's with the church's help or not. But Esther rose to the challenge for a time such as this and replied, "If I perish, I perish."
Esther entered the King's court. With courage. With audacity. With a vision for a future where lives that were being erased were instead valued and lifted up as holy and worthy.
This work will always take courage. And like Esther, we may stumble into a place of power and privilege we weren't planning on or expecting. But to live with integrity at every moment, to be on the side of God (and God is always on the side of the marginalized), to speak truth to power in whatever context you are given, ultimately, is the work that will bring about God's Holy kin-dom on earth, as it is in heaven.
Courage.
Like the courage of Black and Brown LGBTQ organizers like Marsha P. Johnson, who found themselves in the thick of the Stonewall riots in New York City protesting and organizing against the police brutality toward their community.
Like the courage of the kid who moved from their small town to the big city to find community and belonging.
Like the courage of the cis straight ally who understands their power and privilege as something more than a sticker or t-shirt or Instagram post. But knows that they have an in at the table of inner circles that I'll never be privy to and uses that power and privilege for a time such as this.
But I think most importantly, courage only comes from integrity. And integrity is rooted in truth-telling, honesty, and vulnerability. Be generous, friends. Be kind in this work. As Jen Hatmaker wrote at the beginning of Pride month as she was reflecting on her own transformation into becoming an ally, "When I was stumbling through the dark, [my friend Rachel] held up a lantern ahead of me, lighting the way. Wherever you are, look for the lights. There are faithful lanterns up ahead if you need the path illuminated. If you are further down the road don't forget the folks behind you; hold up your lantern so they can see even as you continue to move forward."
May we have the courage we need–to act up, act out, to stir up all sorts of good trouble, while also being kind and generous…for a time such as this.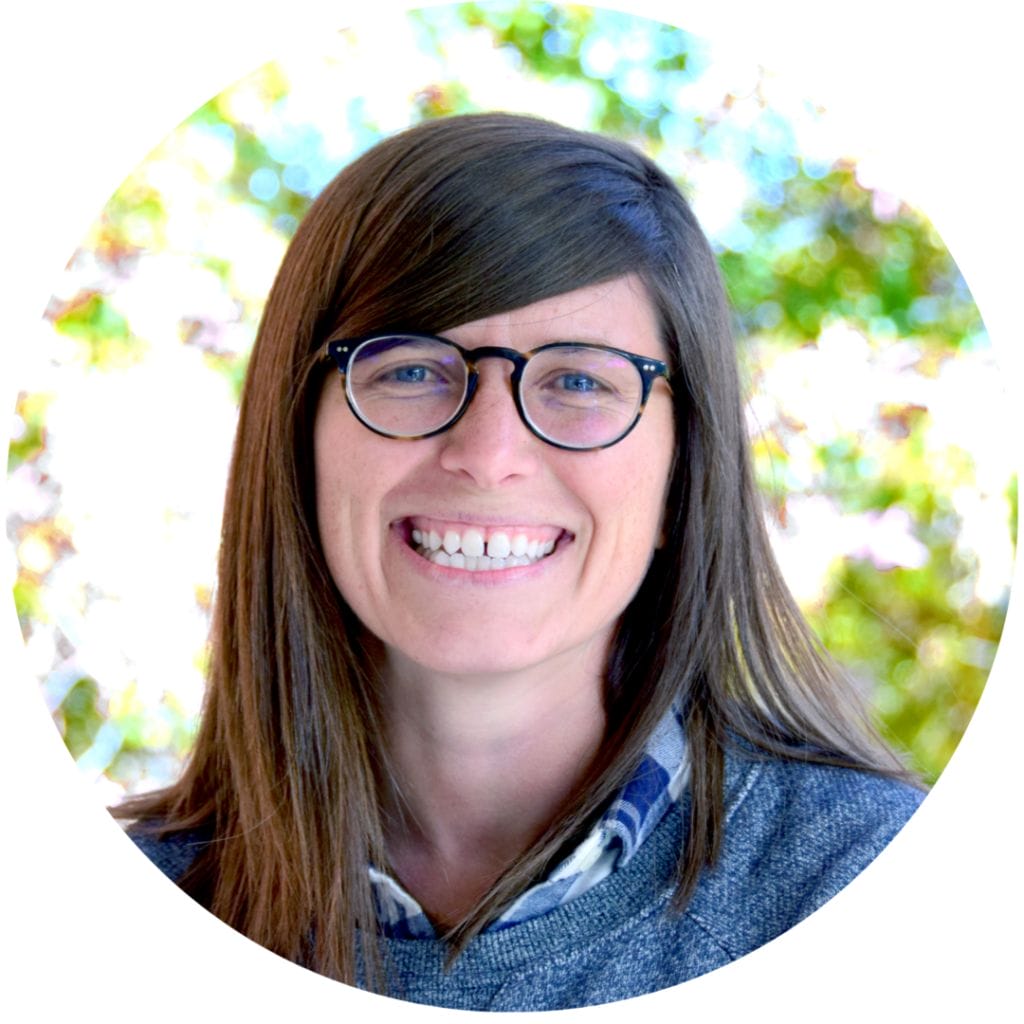 The Reverend Stephanie Cooper serves as the strategic communications and clergy engagement manager at the Alliance of Baptists. She finds joy in gardening, hiking, camping, good food, and spending time with her family. Stephanie holds degrees from Georgetown College, Louisville Presbyterian Theological Seminary, and is a doctoral student at Brite Divinity School studying spiritual thriving and antiracism. She lives in the Williamson Creek-Onion Creek Watershed in Austin, Texas with her wife of seven years, Ashley, and their daughter, Nell.