(5 steps to becoming more LGBTQIA+ inclusive)
by Tim Schaefer
In the past few years it has become common for churches to participate in various Pride Month events, including Pride marches and festivals. For a congregation, it is an early milestone in its journey towards inclusion. There is no doubt that it is a meaningful step for churches and for LGBTQIA+ people. But congregations too often get stuck here. When challenged to take steps towards further inclusion, church leaders are quick to push back and respond, "but we already participate in Pride!" Too often, a church's participation in Pride events is more about publicizing itself and less about standing in solidarity with the queer community.
So, if your congregation supports Pride events, that's great! Assuming you're in it for (mostly) the right reasons, your participation should be celebrated. But participating in Pride is the low-hanging fruit of inclusion. "Welcoming and Affirming" is not a destination, but an ongoing process. For congregations on this journey, here are some tips to continue the work of LGBTQIA+ inclusion.
Be explicit (If you mean it, say it)
"Church shopping" is difficult under the best conditions. If you're queer, it's infinitely harder—and sometimes downright dangerous. Many churches post the words "ALL are welcome!" to their websites and outdoor banners. Unfortunately, most queer people have been burned by this seemingly open invitation. We show up expecting that "all" includes us, only to find out that there are exceptions. As a result, we have learned to protect ourselves by scouring church websites and social media accounts for key words before ever stepping foot in a church building.
Many churches believe that coded language is enough to express their inclusivity. But I assure you that phrases like "we are a diverse community" and "all are welcome" only suggest that queer people are welcome but not fully affirmed. If you are serious about being an inclusive community, come out and say it. If you're working on it, own it by saying that.
Prove it – (If you say it, do it)
If you claim to be inclusive, then make sure you are. Make sure you are not promising something that you can't deliver. As I have already mentioned, many of us have learned that "all are welcome" doesn't necessarily apply to us, so we dig deeper. But too often, we get lured in by claims that a church is welcoming and affirming, only to find out it is more of an aspirational statement. Usually, these are well-intentioned congregations that want to be inclusive but cause unintentional harm with their words or actions. The best way to avoid this is through periodic education and a continual focus on expanding inclusivity.
Evaluate policies and procedures
One congregation I served allowed same-gender weddings to be performed in their sanctuary and officiated by their ministers. The problem was that this was an unwritten policy, and our wedding guidelines included a form that asked for the "bride's name" and "groom's name." If I had to ask for guidance on this policy as a minister on staff, it certainly was not clear to a church member or couple browsing the website seeking a wedding venue.
If your church allows same-gender weddings, then include that in your wedding policies. Update your forms to be gender-neutral. Include photos of queer couples in that wedding gallery on your website. If your church hires LGBTQIA+ staff members, include a non-discrimination statement in your hiring policies and state it explicitly in your job postings. Clearly articulated policies and procedures are important in setting expectations for your congregation, as well as clarifying your position to those outside your organization.
Use inclusive language
Nothing is more important to humans than a sense of belonging. Using inclusive language makes us feel seen, heard, and valued as full members of a community. The language we use in our common life matters. How can we encourage inclusivity through language? Avoid using binary language. Instead of "brothers and sisters in Christ," try "siblings in Christ." Encourage church staff and leaders to use their pronouns in their email signatures and on the church website. This creates space for gender non-conforming folx to share their own pronouns safely. Encourage expansive language when speaking about God. Use liturgies and sermon illustrations that are representative of queer people.
Be mindful of the language you use. Ask for feedback and listen carefully, especially to the voices of those in marginalized communities. Don't be offended when you're told that your language made someone feel excluded. Rather, use it as an opportunity to do better in the future!
Representation matters
I have now served as the first and only openly gay minister on two church staffs. What I have learned about that experience is that representation matters. It is important for congregants to see someone who "looks like them" serving in lay leadership positions and on church staffs—especially as ministers. It is also important for congregations to hear diverse voices. Those of us who are part of traditionally marginalized communities come to the table with experiences and insights that are unique. We are often the best advocates for our own communities—not because our allies are uninterested in our needs, but because our allies often don't recognize what those needs are. The most inclusive organizations are those who include diverse voices in their decision-making process.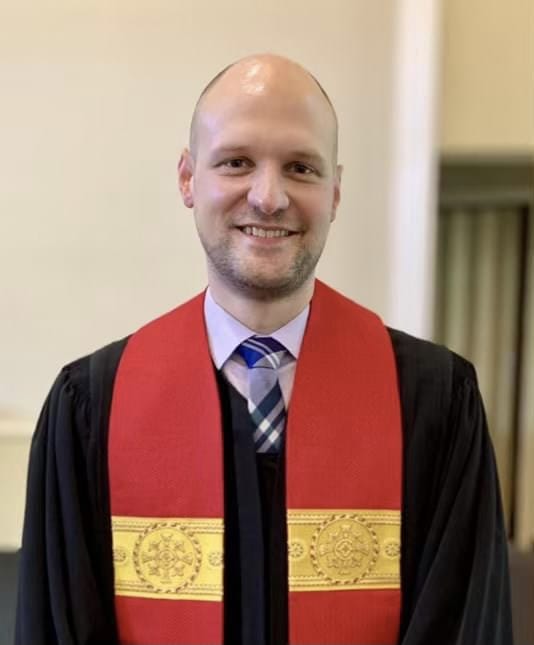 Rev. Tim Schaefer has served as pastor of First Baptist Church of Madison since November 2020. Prior to relocating to Wisconsin, he served as Minister to Youth at Royal Lane Baptist Church in Dallas, TX, where he was ordained in early 2019. Tim holds a Bachelor of Arts degree in Political Science from Boston University and a Master of Divinity degree, as well as, a degree certificate in Gender and Sexual Justice from Brite Divinity School at Texas Christian University. Tim and his husband, John Duncan, reside in Verona with their two rescue dogs, Dolce and Makea.